February 2018–International analytics company Macrobond Financial rented 1.700m2 in the "Oxygen" office building.
In the process of choosing the right office space, the tenant Macrobond Financial company was advised by the Real Estate Advisor Litwiniuk Property Inc.
Analytics company Macrobond Fiancial will move into Szczecin's "Oxygen", that will ultimately take 1,700m2. In the first phase of its tenancy it will have 680m2, however in 2020 the entirety of rented office space will be taken.
Macrobond Financial is young and quickly growing international company, that has its offices in United Kingdom, continental Europe, Asia and in United States of America. Macrobond Financial Poland started its activity in Szczecin in 2008. It's flagship product – Macrobond application – is a platform combining a vast economic and financial database with easy to use tools created to analyse and visualize data. Macrobond's clients consist of professionals from small and big businesses as well as government institutions from all over the world.
"In West Pomeranian Voivodeship and Szczecin itself the unemployment rate is relatively low, but a demand for qualified workers is ever growing. Potential employee will not be drawn in by an attractive salary alone, but also by good working conditions – modern office, good location and established commute. Szczecin's office building "Oxygen" is an answer to our requirements – it is simultaneously a representation of Polish headquarters for Macrobond Financial as well as offers a well commuted location for our employees" - says Magdalena Stańko Administration and HR Coordinator Manager in Macrobond Financial.
- We are glad, that our offices are chosen by international IT companies – says Sylwia Piechnik, Head of Office Leasing EPP. – Oxygen tenants appreciate the quality of the building, but also the location within the city centre, which is offering a vast array of services and entertainment for the people working there.
"During the process of choosing a new location for our client Macrobond Financial, we conducted a full analysis of the Class-A office space market, handpicking the most attractive locations to rent out, in alignment with requirements and wishes of the client. Ultimately the client has chosen one of the most modern office buildings on the local market, "Oxygen" in Szczecin, where the owning company EEP, is actively investing in commercial real estate.
Our analysis concluded that as compared to 2016, in 2017 the amount of unused Class-A office spaces in Szczecin is gradually dropping. Average rates of rent for Class A office spaces in Szczecin, remain stable resembling the ones noted in 2016, and are currently at around 12,0 – 13,0 Euro/m2. Traditionally some of the largest office spaces on the local market, rent firms providing modern services for business sector" - says Patryk Litwiniuk Chief Executive Officer of Litwiniuk Property Ltd..
Belonging to the EEP, "Oxygen" is a high class, seven-storey office building offering over 13 thousand m2 of modern space. Implementing the open space layout gives a plenty of possible office arrangements. Additional benefits include located inside the building health centre Medicover, cafe, restaurant, newsagent and a bank. "Oxygen" is located at the corner of Wyzwolenia's alley and Malczewskiego's street. There is also "Galaxy" right across the street - the largest shopping/entertainment centre in the Voivodeship, hotel Radisson Blue as well as numerous financial and government institutions in the area. The office building is well commuted with other city neighbourhoods - there are tramway and bus stops nearby. The building has one level of underground parking with 181 spaces. The process of renting out was supported by the building's developer, Echo Investment, within rental guarantee.
Chosen press articles:
press article in Property News.pl
press article in Eurobuild Central & Eastern Europe
press article in TheCity.com.pl
press article in e-biurowce.pl
press article in wszczecinie.pl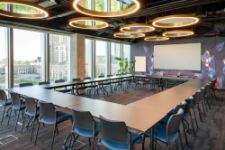 Office in Warsaw Warsaw Equator Ochota, Equator II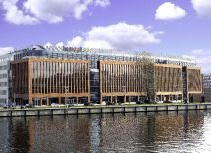 Office in Szczecin Oxygen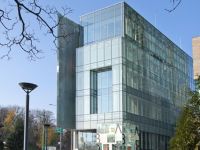 Office in Poznan Andersia Business Centre
Warsaw
tel. +48 22 275 57 85
fax +48 22 275 56 00
Warsaw Equator Ochota
Equator II
00-807 Warszawa
Aleje Jerozolimskie 96
Szczecin
tel. +48 91 488 77 88
tel. +48 91 488 76 74
Oxygen
71-612 Szczecin

ul. Malczewskiego 26
Poznan
tel. +48 723 400 800
Andersia Business Centre
61-894 Poznań
Plac Andersa 7