August 2019 - "Chylonia Business Park" in Gdynia - commercialization by Litwiniuk Property.
One of the companies responsible for the lease / commercialization of the Chylonia Business Park investment is the consulting company Litwiniuk Property Sp. z o.o.
Vacant space remaining for rent in a class A investment "Chylonia Business Park" offering high storage halls with a total area of 4500m2 with an office and commercial building with a total area 2800m2 located in Gdynia at Pucka street.
The investor and owner of the facility is WRI INVESTMENT Sp. z o.o. S. K. The company has already completed many commercial projects, including famous A class office building in Warsaw named "Słomińskiego Art Office", Galeria Zegrzyńska in Legionowo.
This is a unique and only investment in the Tri-City, offering both A-class halls, offices and commercial spaces for rent in the highest currently available standard on the commercial real estate market. The investment will be completed in the first quarter of 2020. We invite you to rent space." - said Patryk Litwiniuk - General Director of consulting company Litwiniuk Property Sp. z o.o.
The building is located in close proximity to the main transport hubs of the Chylonia district - the train station. The facility is located a short distance from the national road No. 6, so you can easily reach it also by your own means of transport. A big advantage of the facility is the proximity and convenient car connection to the port of Gdynia, thanks to the Kwiatkowski flyover connected to the S6 expressway (the so-called Tri-City Bypass), adapted to trucks with a weight over 3.5 tons, including tank trucks. It takes about 10 minutes by car from the terminals to Chylonia Business Park.
High storage halls offer the highest standard currently available, including height 10.5m, floor load capacity of 5 tons / m2, unloading docks and gates from level 0, LED lighting, effective gas heating - radiant heaters, 24h security with monitoring, energy-saving and sound-absorbing glass facade.
In the front part, a four-storey building was designed, whose ground floor was intended for commercial space, and three floors for office space. In the central part of each floor there are small halls with two panoramic elevators for comfortable communication of the office building.
Future tenants were allowed to arrange the interior of an office for rent or a hall tailored to their needs. A set of toilets serving the given floor has been designed on each floor, accessible from the general hall.
Chosen press releases:
press article in Property News.pl
press article in Eurobuild Central & Eastern Europe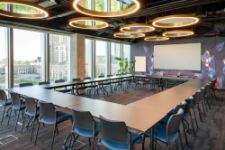 Büro in Warschau Warsaw Equator Ochota, Equator II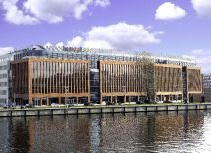 Büro in Stettin Oxygen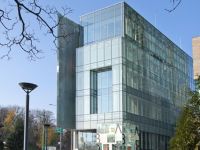 Büro in Poznan Andersia Business Centre
Warschau
tel. +48 22 275 57 85
fax +48 22 275 56 00
Warsaw Equator Ochota
Equator II
00-807 Warszawa
Aleje Jerozolimskie 96
Stettin
tel. +48 91 488 77 88
tel. +48 91 488 76 74
Oxygen
71-612 Szczecin

ul. Malczewskiego 26
Poznan
tel. +48 723 400 800
Andersia Business Centre
61-894 Poznań
Plac Andersa 7