June 2018 - Nationale-Nederlanden is a new Tenant in office building "Palacza Office Center" in Poznan.
In the process of choosing the office space, the tenants was advised by advisory firm Litwiniuk Property Sp. z o. o.
Nationale-Nederlanden Usługi Finansowe Sp. z o.o. is a new tenant of office space of approx. 280 sq m in the Palacza Office Center office building in Poznań.
The new tenant of the Palacza Office Center office building in Poznań is Nationale-Nederlanden Usługi Finansowe Sp. z o.o. - a company that provides services to Nationale-Nederlanden Towarzystwa Ubezpieczeń na Życie clients; Nationale-Nederlanden Towarzystwa Ubezpieczeń and Nationale-Nederlanden Otwarty Fundusz Emerytalny.
"Our client chose the location of his new office in a prestigious and high class office building in Poznan, we are convinced that next new location of our client's facility in Poland will provide comfort and functionality to employees and clients of the company. Our analysis shows that in 2018 the supply of class A office space is approx. 450,000. m2, while the number of vacant space in Poznań, as compared to 2017, is still systematically decreasing. Average rental rates for class A office space in Poznań remain at a constant and similar level as in 2017 and currently amount to approx. PLN 13.00 - 15.00 / m2. Poznań is the fourth largest regional office market in Poland, and we estimate the forecasts for the office space market in Poznań for next year. We forecast that in 2019 the level of demand for office space of the highest standard should remain at a similar level as in the current year, "said Patryk Litwiniuk - General Director of Litwiniuk Property Sp. z o.o.
"Duda Development, an investor in Palacza, is part of Duda Holding, a group of companies managed by the Duda family: the founders of OPOKA TFI, one of the first private TFI on the Polish market, and the creators of Polski Koncern Mięsny DUDA S.A. The family roots of the company translate into values ​​that can be seen in her actions - both houses and flats, as well as office complexes, such as the Palacza Office Center, the company creates for people and their real needs. "- said Wojciech Duda, vice president of the board of Duda Development, the Investor's Representative of the Palacza Office Center.
About the Palacza Office Center building:
The Palacza Office Center project was created with a view to harmonious combination of two features, which are a priority for every company that cares about its employees and its image at the same time: aesthetics and functionality. This building designed with attention to detail, taking into account modern technological solutions, guarantees the employees of companies that move their headquarters here, everyday comfort. The modern, elegant appearance of the building is especially attractive to companies that want to create and maintain a prestigious image. The extremely convenient location of the Palacza Office Center - at Grunwald, near Poznań, close to the city center - will facilitate commuting both to motorists and those using public transport. It will also allow quick access to PKP and PKS stations as well as Ławica airport.
Chosen press releases:
press article in Property News.pl
press article in Eurobuild Central & Eastern Europe
press article in e-biurowce.pl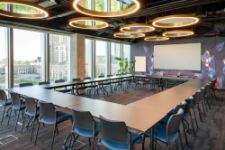 Office in Warsaw Warsaw Equator Ochota, Equator II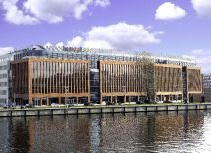 Office in Szczecin Oxygen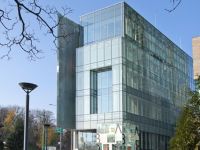 Office in Poznan Andersia Business Centre
Warsaw
tel. +48 22 275 57 85
fax +48 22 275 56 00
Warsaw Equator Ochota
Equator II
00-807 Warszawa
Aleje Jerozolimskie 96
Szczecin
tel. +48 91 488 77 88
tel. +48 91 488 76 74
Oxygen
71-612 Szczecin

ul. Malczewskiego 26
Poznan
tel. +48 723 400 800
Andersia Business Centre
61-894 Poznań
Plac Andersa 7