Warehouse rental
Ideal location for your business and tailored technical parameters of your specific requirements can significantly reduce cost of logistics processes and increasing effectiveness.
Our experts from Warehouse Premises Department offer support in all stages of rental process, beginning from finding the best location across designing to putting the property into use. Through cooperation with leading developers and our knowledge about warehouse market and available building lands in whole country, we are able to propose the best solutions.
Our actions are divided into some stages:
Preliminary analysis of supply
Our workers, based on information received from you, will prepare a list of locations which initially meet your expectations concerning space, time, price etc. This will enable us to figure out quickly how many options are available and what is the expected price and level to sign final agreement.
Inguiry
A detailed request for offer is extremely important to increase the pace and to facilitate analysis of the rental offers. Workers of Litwiniuk Property will prepare for you an individual offer request, describing details all your requirements (technical, location, time etc.). We will present the individual offer.
Membering of the collected offers
After collecting offers we carry out an analysis and assess the attraction and usefulness taking into consideration the goals defined previously. The extremely important factor is unify collected offers to compare them easily. On your behalf we will analyse in detail as follows:
Technical specifications of the storage premises,

Flow of funds within the offered rental terms,

Possible of negotiations of rent rates offered by the renters (e.g. rent-free time, additional adaptations of the facility etc.),

Availability of qualified workforce,

Analysis of competitors' location.
Rental terms negotiation
Specjalist from Litwiniuk Property will conduct negotiations, on your behalf, with warehouse owners premises in order to verify information contained in their rental offers, as well as to negotiate the best commercial terms of rental agreement.
Rental agreement
To make sure Litwiniuk Property can recommend you a reputable law office or, in cooperation with your lawyers, to make sure that final negotiations of the agreement will conducted efficiently and according to the provisions of intent letter or Lease Agreement.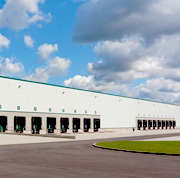 halls/logistics parks
---
selected transaction of warehouse spaces leases:
Ceri International is a new tenant in Panattoni Park Łódź East.
Through Litwiniuk Property mediation Ceri International – outsourcing company – rent 3.050 sq m in Panattoni Park Łódź East.
more
---
Swedwood (IKEA Group) signed lease 7,200 m2 in Prologis Park Szczecin.
Swedwood (IKEA Group) signed lease 7,200 m2 in Prologis Park Szczecin. The transaction was made through Litwiniuk Property.
more